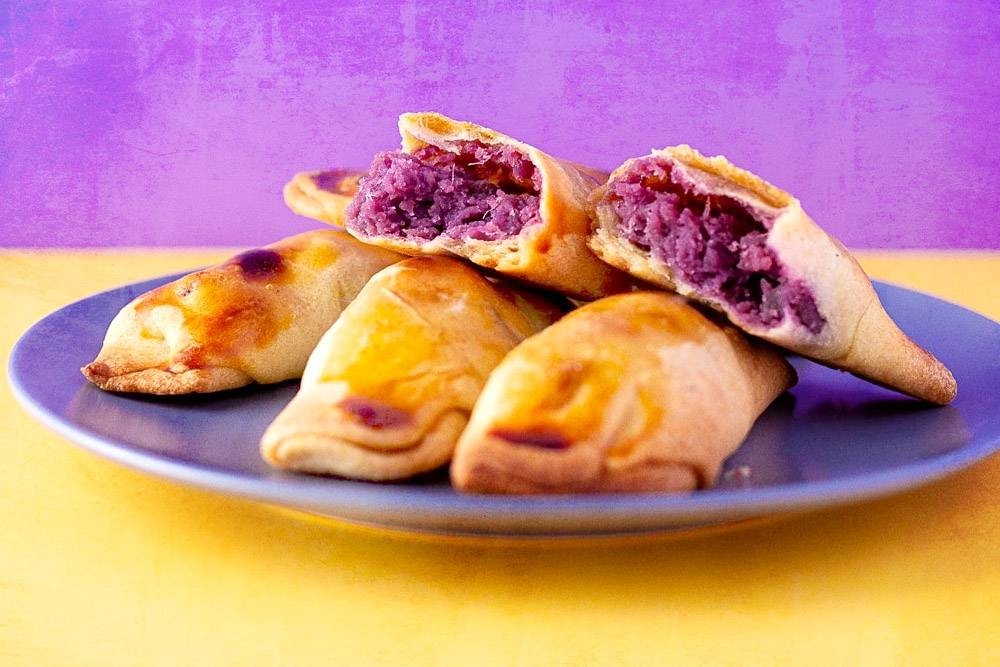 From purple sweet potato pies to chocolate pudding buns, Doughappy is Taman Desa's favorite back-to-back baker
KUALA LUMPUR, Nov 24 – They look like miniature pies with a crispy egg-washed exterior. Perfectly baked, you could say. But what is in it?
Take a bite and you'll discover a subtle sweet filling that ranges in texture from chunky to creamy. And the color! That vibrant purple shade!
These are purple sweet potato pies from Doughappy Bakery, Taman Desa's favorite secret bakery. That's the name of the preservative-free purple sweet potato filling zǐ shǔ xiàn and also used for their purple sweet potato sourdough fritters.
Doughappy Bakery is run by Mia Lee and Sam Chuah, a couple in their early thirties.
Lee is from Bidor, Perak, where her parents sold their homemade bread in front of the city's bus station. She has always had an affinity for baking.
When Lee met Penang-born Chuah while studying at UTAR, they decided to pursue their dream of expanding their parents' business and sharing the traditional taste of homemade bread with others, especially in big cities like KL.
Zǐ shǔ xiàn' or purple yam filling (left) is used for their purple yam sourdough fritters (left).
They started selling their baked goods – Malaysian classics like sliced ​​bread with spread kaya and Planta margarine, red bean buns and coconut buns – from a food truck in Taman Desa.
Residents soon learned to stop by in the early afternoon to pick up their favorite items for tea time or to keep for breakfast the next morning.
It was a good start for a young company run by two hardworking young people. Then the Covid-19 pandemic struck.
Lee recalls: "We lost a lot of customers during this time because we didn't have enough time to gather contacts after the lockdown was implemented. Luckily we managed to get some customers of our own taman – they supported us every week for the rest of 2020."
During the first lockdown, the duo decided to go on hiatus while they regrouped and strategized.
With a database of regular customers, they switched to taking WhatsApp orders for their baked goods.
Doughappy Bakery is run by husband and wife team, Mia Lee (left) and Sam Chuah (right).
Even with that stable, albeit small, clientele, Doughappy's sales fell drastically by as much as 80 percent. They hoped business would bounce back once the lockdown was lifted.
However, the reality was much harsher. Lee shares, "Even after a lot of prep on the food truck and new menu items, we found that the usual crowds weren't there anymore.
"Many of the shops and restaurants along the same route suffered as well and we realized we needed to focus on our online sales."
The couple had already started using Facebook to market their product before the pandemic, but soon realized that it wasn't enough and decided to try the Instagram platform as well.
Lee says, "Surprisingly, compared to Facebook, we got more interactions and responses from Instagram. So we have now arranged that our weekly menu will be posted on both our Instagram and Facebook stories every Monday night to allow our customers to place their orders."
This means a new sales process for Doughappy, which will see the couple first picking up and confirming orders from their social media accounts before they are delivered on set dates.
Fluffy matcha buns taste best with some thick red bean paste and cold butter.
Lee adds: "Customers can also pick up from us or arrange their own delivery. To date we can see that our revenue has exceeded our sales when we operated from our food truck."
Such a pre-order approach means the online bakery can save time and reduce wastage of unsold goods.
However, Lee notes that her work hours have increased as "we now have to take orders, pack and arrange for delivery compared to our food truck days where customers buy from the truck."
Regulars are now closely following their menu delivery dates (every Monday night at 8pm) to keep an eye out for new items like fluffy matcha buns, which are best enjoyed with some thick red bean paste and cold butter.
Aromatic focaccia peppered with black olives, herbs and sun-dried tomatoes beckon enticingly.
Slicing bread is now a breeze after purchasing your new bread slicer.
Even something deceptively simple like their new chocolate pudding buns has been a huge hit, blending classic and modern.
Lee explains, "We came up with the idea for our chocolate pudding buns while trying bomb for the first time. Tastes great, but it's fried and too oily for us.
"So we created this version where we use our own chocolate pudding made from premium Belgian dark chocolate and pumped into our soft mini pillow buns."
The aforementioned purple yam pies and sourdough fritters are the latest bestsellers. Lee says, "Everyone loves donuts! We were looking for a healthier alternative that doesn't contain sugar and uses natural yeast.
"To our surprise, the texture and flavor were acceptable, although it took some time for our customers to appreciate it."
The new products include focaccia (left) and chocolate pudding buns (right).
In addition to new products, there were other changes. A seemingly small addition – that of a bread slicer – changed the life of Lee, who risked injuring himself through repetitive tasks from slicing so many loaves of bread by hand.
She adds: "We are also looking for a space to expand our operations as our demand increases. Many customers were disappointed when their orders could not go through as our production capacity is now limited."
As a small business owner, the increased cost of ingredients is a major issue they are currently facing. Lee explains, "Most of our wheat for flour production in Malaysia is imported from Ukraine and Russia, while alternative sources from China and India have been hit by drought and massive flooding."
The prices of other import goods important for baking, such as butter, cheese, walnuts, etc. have also increased.
Lee shares, "Overall, ingredient prices have increased four-fold in 2022 alone. We manage the increased costs without burdening our customers by spreading the difference to other areas."
Who knew there was so much going on behind the scenes to make your beloved artisanal donuts or fluffy pillow buns?
Pack freshly baked rolls for customers.
All the more reason to be thankful for our bakers, especially the smaller entrepreneurs who need our support to continue their good work and make more delicious, healthy treats.
Doughappy Bakery
I G: instagram.com/doughappy_bakery/
FB: facebook.com/doughappybakery/
Operating days: Fri-Mon, with menu posting every Monday evening at 8pm on their IG and FB story.
* Follow us on Instagram @eatdrinkmm for more food gems.