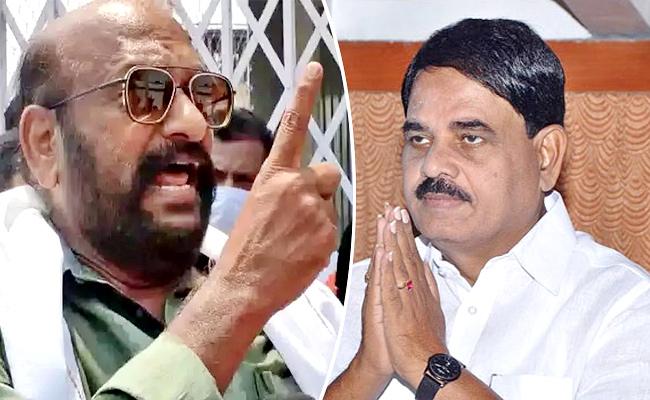 YSRC meeting in Anantapur sparks split in TDP!
The public meeting of YSRC leaders in Anantapur as part of the "Samajika Nyaya Bheri" bus yatra has sparked an internal war among the leaders of the opposition Telugu Desam party in the district.
The TDP in the combined Anantapur is already divided into two groups – one led by former Minister Palle Raghunath Reddy of Puttaparthy and another by the JC family consisting of JC Diwakar Reddy, JC Prabhakar Reddy and his son JC Asmith Reddy.
Both groups have been indulging in verbal attacks on one another for some time.
The JC family have insisted that the TDP at Puttaparthy would only survive if Palle Raghunath Reddy were relieved of the post in charge; and Palle says the JC family has no right to interfere in his constituency.
Against this background, the JC Group made new allegations against Raghunath Reddy.
The TDP has claimed that Jagan Mohan Reddy's government has issued strict instructions to all private transport companies and educational institutions not to provide transport for TDP workers to attend Mahanadu, the party's biennial conclave in Ongole.
But the same transportation companies and educational institutions were forced to provide buses and other vehicles for the public gatherings of YSRC leaders, who used the Bus Yatra to highlight government achievements.
The JC group circulated on social media along with pictures showing Palle Raghunath Reddy making his college buses available for the YSRC leaders public meetings in Anantapur.
"Who is the real TDP leader? Is it JC who has shut down his transport operations and has suffered millions of rupees in losses just because cases have been booked for a few buses? Or Raghunath Reddy arranging his college buses for YSRCP meetings?" the JC group said in the post, tagging party president N Chandrababu Naidu.
The JC group further claimed that Palle prevented Prabhakar Reddy from coming to Puttaparthy and caused a stir when another leader, Saikam Srinivas Reddy, drove to Mahanadu in his vehicles.
"Dear TDP workers? Have you seen your beloved leader providing vehicles for the YSRC meetings?" he asked.
The JC group also pointed out that Raghunath Reddy had previously met and even had lunch with Tadipatri Kethireddy Pedda Reddy's YSRC MLA. The JC group also made this photo viral on social media.
New app warning: All OTT apps and release dates under one app