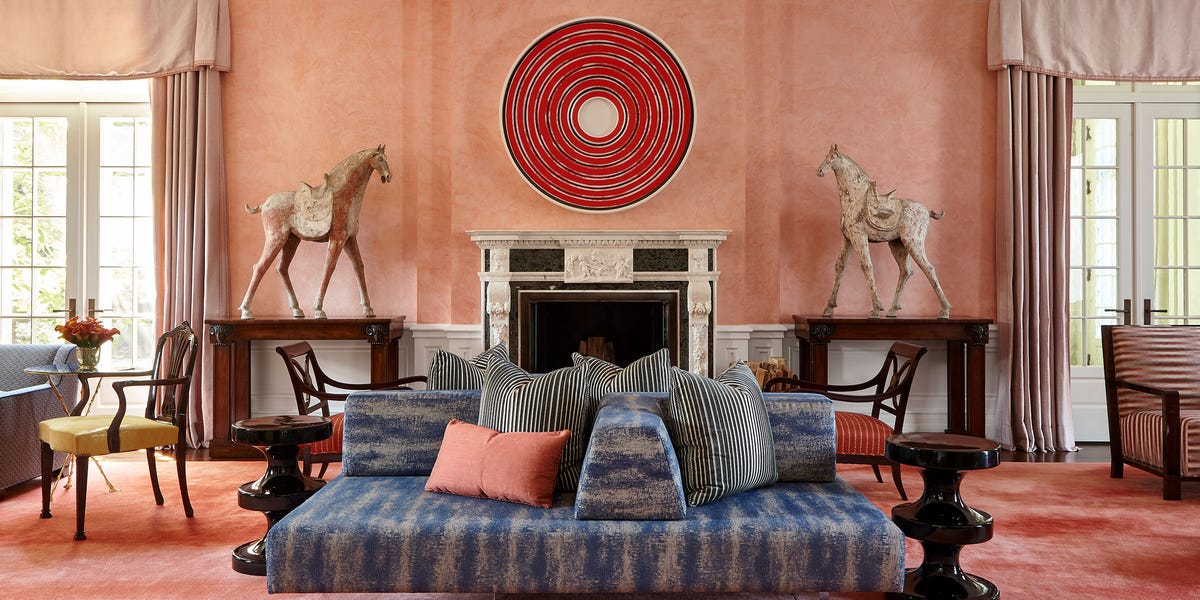 Unexpected colors reign supreme in this Drake/Anderson designed property
One would imagine that it would take an unusual level of trust – and open-mindedness – on the part of homeowners to greenlight their interior designer's plans for a master bedroom with an orchid and honeydew melon color scheme. Except when it's that rare client whose favorite pairing is purple and orange, and the designer is Jamie Drake, a master of unconventional, expressive palettes who has never hit a shade of purple he couldn't use with panache.
About a decade ago, Drake was enlisted by long-time clients to revitalize a historic Long Island estate surrounded by a stately brick Georgian house that "had wonderful bones," says the designer, "but really has been since its construction in 1913 Before there were any flourishes of color – and there would be many, including the couple's bedroom – extensive work was required to modernize the home for 21st-century living.
First of all, there was no air conditioning and all plumbing and electrical systems had to be renewed. A poorly designed 1970's addition with garages was due to be demolished and replaced with a new pool house and entertainment wing. Also, the owners wanted to use the lower level of the home for things like a gym, billiard room, and wine cellar. However, when planning the new geothermal HVAC system, it became clear that the ground floor ceiling height would only be about eight feet. "We got the idea that we could actually lift the house up on steel mesh and dig it down," explains Drake.
With the house placed on new foundations, its chimneys rebuilt with brick, and the centuries-old windows replaced, Drake turned his attention to the interiors. He worked closely with Caleb Anderson, his partner in Drake/Anderson since 2015 to maintain the spirit and period details of the spaces while modernizing them and infusing them with the sophisticated flair the duo are known for (and featured in full in their first joint monograph, Bold, will be published by Rizzoli in October).
In the entrance hall, Drake and Anderson have preserved the marble checkerboard floor, numbering each tile and carefully re-laying it. They rebuilt the staircase in marble rather than the pre-existing wood, which according to Drake "seemed like a complete separation from the fabulous wrought iron banister". And while they based the room's crown molding, decorations over the doors, and fluted pilasters on the originals, "they made them taller, bolder, and stronger," says Drake, noting that they also removed one of the pilasters for a better one rhythmic balance on the wall space for art, a place where they had previously displayed a Roy Lichtenstein graphic painting of sailing boats.
The owners' art, almost entirely modern and contemporary, plays a key role throughout the house and serves as a foil to the traditional architecture. In the foyer, next to the Lichtenstein, one of Alexander Calder's iconic mobiles hovers over a sculptural metal piano by London firm Based Upon, "which looks like it was dropped from space," as Drake puts it. Neoclassical mirrors and antique ruby-red glass chandeliers are mounted by Hervé Van der Straeten above Deco-style corbels of parchment, bronze and lacquer, complementing a centuries-old mix that, according to Drake, is "a statement of what is to come in the rest of the house. "
While the entryway is mostly decorated in muted neutrals, open doorways reveal rooms of striking color, not least the living room, where the walls are covered in a plaster that Drake describes as "warm, embracing, vibrant coral salmon." In the center of the room is a large, sturdy, modern tête-à-tête sofa by Vladimir Kagan, while the seating areas on either side are furnished with the same different furniture – an upholstered sofa and chair from the 1940s, biomorphic contemporary Cocktail tables and an open English armchair "Asymmetrical symmetrical groupings where everything is flipped," says Drake. A spiraling circular painting by Blair Thurman displayed above the floral marble cornice, with Tang horses standing on antique English corbels on either side, completes the picture of spirited eclecticism.
"We wanted to strike a balance, aiming for elegance and high style with a certain level of formality, but not in a leaden way and certainly not in a grandmotherly way," says Drake. "It's high style that looks to the past but doesn't ignore the present."
In the dining room, Drake and Anderson clad the walls in traditional paneling with carved linen folds along the base, but they painted everything an electric cobalt blue and installed artwork by Gerhard Richter, Anish Kapoor, and Maya Lin to create an atmosphere that's anything but ponderous. The room's monumental Suzan Etkin chandelier, with blown glass drum shades, is connected to a hydraulic system so that it can be raised to accommodate larger entertaining with various table configurations in the room.
The library received all new mahogany panelling, classic in style but also with a twist. The bookshelves are wrapped in parchment, "a contemporary interpretation that brightens the entire room," says Drake, who accentuated the largely neutral space with striking pops of crimson in the chair upholstery and the moldings on the curtains.
No convincing was needed when it came to the lavender backsplash, purple back-lacquered glass cabinets, and purple upholstered breakfast chairs in what he calls "a contemporary take on a 1910 kitchen." The same goes for the dressing room upstairs, which is done in a shade of lilac.
Clients share Drake's fondness for purple, and they love to pair it with shades of orange, hence her bedroom's distinctive color palette, which is reflected in the drapes, linens, chair upholstery and Persian rug, even in the landscape painting by Wayne Thiebaud , hanging above an antique English chest of drawers. A window behind the closed bed has been restored to recapture "the loveliest view," says Drake, who describes the grounds surrounding the house as "a balance between formal gardens and a more idyllic, rolling countryside."
The centuries-old gardens have been restored and updated by a landscape architect Janice Parker, a frequent Drake/Anderson collaborator. Together they refreshed the bluestone terraces and designed a new granite-rimmed pool, all outfitted with Michael Taylor outdoor furniture. In these areas, Parker emphasized plants with lush, vibrant foliage and flowers, including, of course, agastache, lavender and phlox in shades of purple.
There is also a sculptural bronze fire pit surrounded by curving granite benches overlooking one of Tony Cragg's spectacularly spiraling totems, shaded by towering Kryptomeria trees, with the trellises of the historic Rose Garden visible beyond. In both the exterior and interior, the residence speaks to tradition while embracing the new. Drake, who ties it all together with harmonious pep, sums up the house: "It shows you how true eclecticism can really sing."