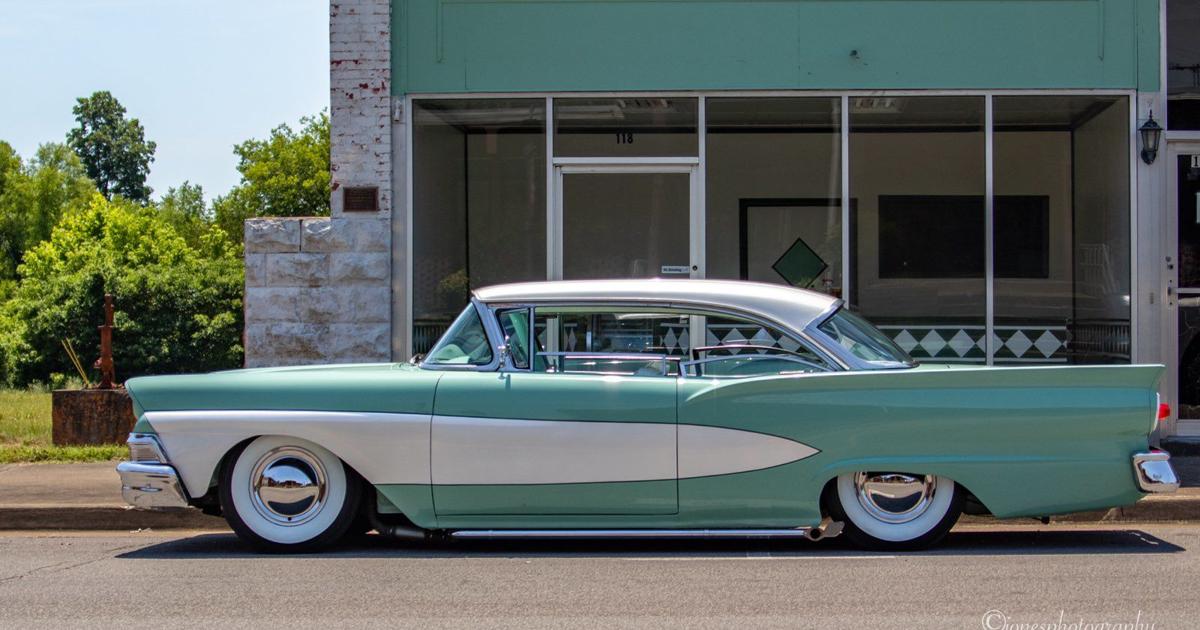 New candy store is coming to Dawson | Progress at Dawson Springs
Dawson Springs is about to get a little cuter.
Robert and Khrystal Delosh plan to open the city's newest store, Main Street Sweet Treats and Eats, within the next few weeks. As you can tell from the name, it is located downtown at 118 S. Main St.
Dawsonians got a taste of what's to come in the form of rosettes on Independence Day. The Deloshes gave out free cookies throughout the day and received a warm welcome from the residents of Dawson Springs.
"Our meet-and-greet went much better than expected," said Khrystal. "We had so many wonderful people come over."
As you drive down South Main Street, you immediately notice the color scheme of the bakery that has become the talk of the town.
"After we bought the building and decided to open a 1950s-60s style bakery/cafe, we went to a flea market in Florida to look for things for our new home," Khrystal explained, inspiring the chosen one color tone of the building. "We came across a gentleman who had jadeite glass – Robert and I really liked the color and it suited the era we wanted to go to."
As you stroll down South Main Street, you'll likely see Deloshes' 1958 Ford Fairlane parked outside. It's hard to miss, as the vintage car is painted in the same color theme as the bakery and the pale green glassware that was popular in the mid-20th century.
"We took a piece of the jadeite glass to a paint shop, had the paint done, and Robert painted the car to match our concept of the building," she said.
The July 4th meet-and-greet was just that, as the Deloshes are new to Dawson Springs. Khrystal is originally from Washington state, while Robert, who builds custom cars, grew up in New Mexico. The couple met in Washington when Robert was working on an automobile, and his job has allowed them to live in several locations in the western United States and Florida.
"We chose Dawson Springs for a number of reasons," Khrystal said of fulfilling her dreams of a business and a home. "First, we wanted a small community with a good school for our daughter, Kailey."
"We weren't tied to a single place, and as soon as we were ready to settle in one place, we started searching — ever since Robert and I have been together, we've talked about living over a business we owned," continued Khrystal gone. "One day we came across an ad in Dawson Springs and fell in love with it immediately."
Rosettes, Main Street Sweet Treats and Eats' signature cookie, will be a staple on the menu once the bakery opens for business. Khrystal's other specialties will also be on the menu, including chocolate chips, oatmeal raisins, no-bake and meringue cookies, Divinity (with or without nuts in many flavors), fudge, donuts, scones and cupcakes.
Bread is Robert's forte and will also feature prominently on the menu.
"We will be offering risen breads like cinnamon rolls, brioche, sourdough, pumpernickel, baguette and more, as well as non-rise breads like zucchini, chocolate zucchini and banana," Khrystal said. "We plan to base our menu on what the people of Dawson Springs love, so items will change over time."
As for their future intentions, "We will offer coffee in different flavors, along with tea, lemonade and soda," Khrystal said. "We plan to open up the entire building and have a cafe-style bakery with breakfast items – like pancakes and breakfast burritos – and lunch items – like soups, salads and sandwiches – with a small arcade."
"We are happy and excited to be here and can't wait to meet everyone," she concluded. In the meantime, you can follow Main Street Sweet Treats and Eats on Facebook.