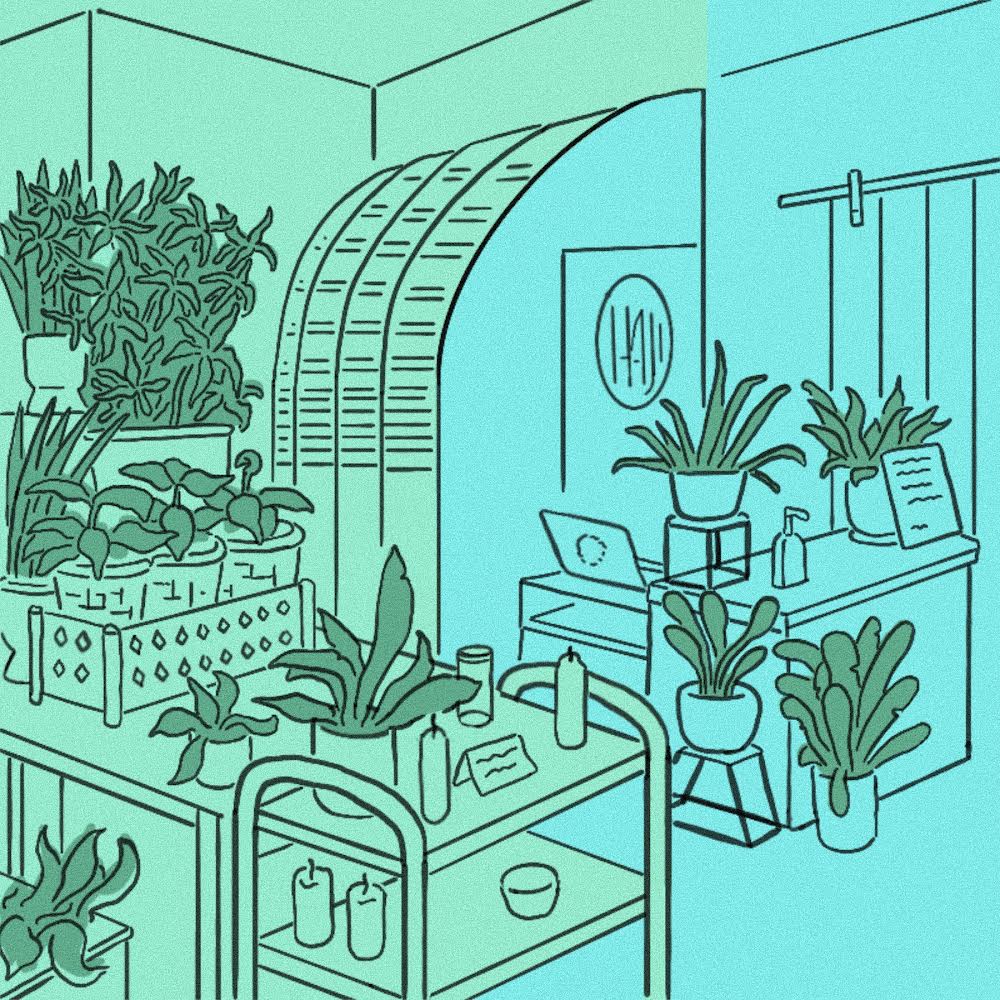 How the Haji Healing Salon came about – South Side Weekly
TThe vision was so persistent." Aya-Nikole Cook, the director and founder of Haji Healing Salonhas been an entrepreneur for many years and has pursued multiple projects, but nothing has driven her as much as her vision for the community healing center now located in Bronzeville.
Haji is an honorary title bestowed on a person of Islamic faith who has completed the annual pilgrimage to the holy city of Mecca in Saudi Arabia. Hundreds of thousands of devout Islamic people travel to Mecca every year to perform this divine duty. This trip or hajj, is a testimony of their faith, devotion and love for God. While Cook is not Muslim, her dear friend, who is of Islamic faith, gave her the title out of respect for her spiritual devotion and love. She also sees herself as a spiritual pilgrim or traveler through life.
Life is an inevitable journey. We learn every step of the way on our individual paths and build relationships with others who are walking their own paths. "Hajji healing is like a beacon to all people" who are on life's journey seeking healing, Cook said. Haji Healing goes deeper than the more popular self-care rhetoric like hydrating face masks. A path to healing and spirituality is not easy, but it is open to anyone who has the courage and open heart to embark on the journey. The good news is that there is a community of individuals or "travellers" on their own path to draw strength and support from.
Haji Healing compels us not only to see, but to experience and find joy that we learn and heal best in community. Most importantly, through practice and people by your side, Haji Healing urges us to realize that we have more tools to live healthy and healthy lives than we realize. A healthy and healthy life is available to us within ourselves and directly in our environment.
These lessons, "woven into the fabric of Haji Healing," are fruits of wisdom drawn from Cook's own lived experiences and previous teachers. "I've learned that the purpose of community is to have people who can witness your journey, so our healing is not complete until witnessed by our community."
This was true for her when she was diagnosed with fibroids, small tumors that develop in the uterus. After her surgery when she faced the most difficult part of her healing process, an eight-week period during which two stubborn dear friends offered to look after her, despite Cook's arguments.
Though she didn't typically let others take care of her, Cook found that she could let go with her friends and really find the rest her mind and body needed. "I could just let go," she said. Most importantly, Cook learned that she "can't heal on her own." After all, inspiration to walk the path you are on can take you far, but with support you can go so much further.
Cook's health ordeal wasn't just eye-opening and humiliating — it was instrumental in her vision. In 2015 she was invited to a residency in Chicago Art & Public Life Creative Business Incubator, an initiative of the University of Chicago. Back then, she wanted to create a healing space for women suffering from fibroids.
The room featured naturopaths whom Cook had invited to teach about various healing methods, plant-based eating and natural healing. She also invited doctors to talk about surgeries so that the women who came had a wide range of options and information for their healing. The space ran for about four months and was so successful that people started asking for more than it offered. So her vision expanded.
Cook began to envision a space where all healing modalities could be practiced simultaneously. During the final month of her stay, she created a wellness center that operated for thirty days, utilizing resources and support from her stay. But when her stay in Chicago ended, she moved back to Oakland with no intention of returning to Chicago. "Oakland's mountains and oceans were everything," she said.
Of course, there's no better place than home, and a South Shore native, Cook is very nurturing of her Chicago roots. During her absence she was prompted again and again by her vision of a healing sanctuary in her homeland. Although she did not know how she would run such an enterprise or where the resources would come from, she kept imagining a healing sanctuary during her meditations and healing sessions.
After ten months away, she had a strong feeling of returning to Chicago that could not be denied. She moved back to Chicago with only one vision and the belief that everything would work out the way it was supposed to.
This was no easy task. When Cook returned to Chicago, she thought she had secured a guaranteed spot at Washington Park, but when that arrangement fell through, she began looking to friends, former teachers, and old connections for yoga spots. Eventually she found a pop-up room in Chatham. "It wasn't the vision yet, but I was determined to make the best of it," she said.
She mainly held yoga classes, meditation sessions and invited her personal acupuncturist to the acupuncture sessions. Cook's time in this room lasted only a few months. "The key holder was unreliable, some mornings he was there and some mornings he wasn't," she said. Out of frustration and sheer determination, she took her few yoga students to her home for yoga classes. She set up a "speakeasy" room in her home, where not many people knew she taught classes. Despite this, it was fully booked every Sunday for a whole year.
"My living room was for yoga and the dining room was for acupuncture," she said. A fruitful year had passed when she received the call from the landlord of the Chatham premises she occupied, offering her the premises again.
The timing was perfect. The small 1600 square foot space in Chatham was suddenly filled with so much potential. Cook enlisted the help of her father, a carpenter, as well as her own artistic skills to create a new sanctuary of healing in the neighborhood. Two years later, when the pandemic began, she moved classes online while she began working at a location in Bronzeville, a community she knew was experiencing a revival led by many black entrepreneurs. The space offered in Bronzeville was larger and felt perfect for their vision and officially opened in 2021.
So Cook continued in faith again. "I go where I am called," she laughed.
One of the most important values ​​for the Haji Healing company is to maintain the livelihood of both their students and the shrine itself. From the start, Cook has emphasized the importance of continuing to have community support. In this way, prices for courses and healing sessions could remain low and community bonding is strengthened.
The courses and healing sessions paid for rent, utilities and insurance. "It was simple math. I had no money and no credit, so for every single class and session I planned to contribute to bills," she said. This also provided an incentive to expand, so she invited practitioners of other healing modalities such as Reiki masters, tarot card readers, and body workers.
Inviting multiple practitioners to share the space reduced costs, but most importantly, it made the services provided to the community more accessible. For example, acupuncture usually requires multiple treatment sessions to be effective. With lower costs, members can come for treatments more frequently – some even weekly.
Throughout her journey, Cook clearly always had arrangements and other people to help make Haji Healing's vision a reality. In her own words, Haji Healing is a "story of grace."
"When you build relationships, it becomes a community. That's a whole different level of support and nourishment. You can do anything with it."
Cook is a wellness curator. Like a museum or art curator, she drew on her background as an artist to make Haji Healing Sanctuary "artful and with purpose… to make everything beautiful."
The healing begins when you enter Haji Healing. You will be greeted with a beautiful and refreshing display of an abundance of lush and healthy plants of various sizes and species. There are large windows that look into the sanctuary and let in plenty of sunlight. It feels like an amazing mini forest.
The walls are painted in a moderate shade of dark blue, making the space feel even more spacious and refreshing. As I admired the plants, Cook reminded me that if we take care of life, life will take care of you. The wall to the left of the plants is filled with a wide range of products such as plant seeds, incense, and herbs.
Behind the plants is a nice display of body and face products because, according to Cook, "it's just as important to be careful what you put on your body as what you put in it." My personal favorite part of this half of the sanctuary is the bookshelf behind the plants, which is filled with a range of books on spiritual and physical well-being.
In the other half of the sanctuary, separated by a large sliding gate, is the room where most of the communal healing takes place. On one side is a beautiful arc-like structure used for acupuncture, with vertical open gaps, so it's not completely separated. The open areas of this arch let the sun shine through and shine beautifully onto the larger open area next to it. The larger open space is reserved for collaborative healing sessions such as meditation, yoga, sound healing, dance, oracle reflexology, nidra yoga (deep rest), celebratory events, and monthly gatherings with members.
Within the walls of this beautiful space, community takes shape through communal practices. For example, imagine you are having an acupuncture treatment and a few meters away there is a simultaneous sound healing and meditation session with other community members. This is important, according to Cook, because when multiple healing practices occur simultaneously, "an energy context is created as people heal together and simultaneously." It can also be helpful to simply bring a friend or family member to the sanctuary for those unfamiliar with these practices.
The birth of Haji Healing is clearly a testament to vision, faith and courage. It also represents the richness and infinite potential of Bronzeville and the South Side rich in community and community members like Aya-Nikole Cook building cups of light and well-being. They remind us that we can depend on one another and that healthy living, both inside and out, is accessible to all, especially through community.
✶✶✶✶
Tebatso Duba is a curious, dedicated lifelong student and graduate of Lake Forest College. Born and raised in South Africa, Tebatso is currently an aspiring lawyer and legal scholar. This is her first story for the Weekly.