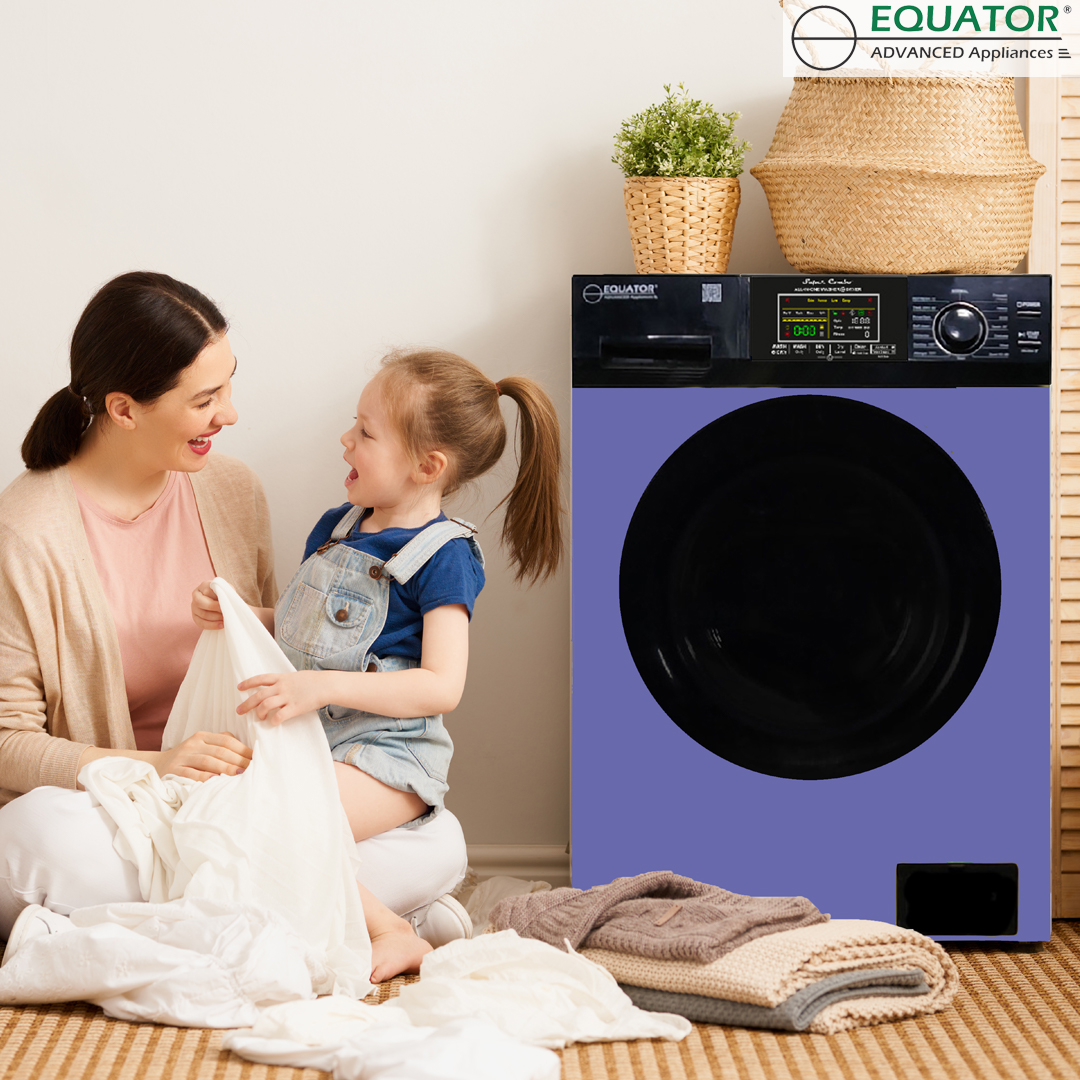 Equator launches all-in-one washer and dryer in Very Peri color of the year
The launch of the Peri Color EZ 5500 CV Combo Washer and Dryer does not sacrifice quality for a new shade as the machine retains its exceptional and unrivaled features
Very Peri, a new shade of blue, is the color of the year 2022. It has been described as a dynamic periwinkle-blue with an invigorating purplish-red undertone.
Today Equator Appliances is pleased to announce the launch of its 18lb washer and dryer combo in Peri, the color of the year. The Super Combo EZ 5500 is a brilliant innovation in the Equator Appliances fleet with four wash modes including Disinfection, Allergen, Quiet and Winterize. This version in Peri doesn't feel any different in terms of efficiency and reliability.
Designed for every home, the EZ 5500 CV features a colour-coded, intuitive control panel with fully automatic, simple 2-step operation. With a capacity of 18 lbs, the Super Combo can wash and dry fully automatically in a single unit. Using sensors, it measures the right amount of water for a wash load and the heat needed to dry clothes at the optimal time without wasting energy.
The Peri Color Super Combo EZ 5500 CV offers premium convenience and allows users to wash and dry 18 pounds of laundry. It also allows users to add laundry and clean them properly after the machine starts washing the laundry added at the beginning. The drying cycle of this washing machine uses two fans, and it is the only combination washing machine in the world to offer a choice of vented or condensed drying mode, which can be changed depending on the season at the push of a button.
With COVID-19 and other viruses and bacteria making the rounds, the EZ 5500 CV machine heats water to 165°F to disinfect clothing. It's a handy machine perfect for people working in hospitals and contaminated areas, helping to stop the spread of the widespread COVID-19 virus. The machine also has a self-cleaning option, where it cleans the inner drum and vat to remove mold, dirt and bacteria, making machine self-cleaning optional. In addition, it features antimicrobial treatment technology used in the drum baffles to prevent bacterial growth and keep clothes safe.
Other features of the EZ 5500 CV Super Combo machine include:
● Child Lock: Locks the control buttons to prevent a child from changing the selected cycle while playing
● Beep at program end: a function that emits a beep after a washing program
● Onboard Diagnostics: The 5500 CV is equipped with multiple sensors that track everything the machine is doing and identify faults by displaying up to 13 error codes and messages
● 10 washing cycles: Users can choose between Normal, Prewash + Heavy, Heavy, Fast 20, Delicate, Wool, Quiet 60dB, Allergen and Disinfection washing cycles
● Winterize: This is a quick two minute easy to use cycle. Users just need to pour antifreeze into the drum, select winterize and press start.
The new sleek design of the EZ 5500 CV makes it an incredible machine suitable for homes, hospitals and anywhere a washing machine is needed. Backed by Equator's 1-year warranty, the washer-dryer combo is available from an MSRP of $1599 at Amazon, Home Depot, Lowes, Wayfair, Overstock and more.
About Equator Appliances
Equator Advanced Appliances was founded in 1991. The product line includes washing machines, dishwashers, refrigerators, wine coolers and other essential household appliances. The company's groundbreaking green products have been featured over 1,000 times in media including Fortune, Popular Mechanics, Better Homes and Gardens, The Wall Street Journal and Oprah. Equator, now entering its 31st year in business, remains committed to developing innovative products that solve real problems in its customers' lives.
For more information, please visit www.equatorappliances.com.
media contact
Name of the company: Equator Advanced appliances
Interlocutor: Nick Mathews
E-mail: Send e-mail
Phone: 1-800-935-1955
Address:10222, Gerorgibelle Dr, Suite 200
City: Houston
Federal state: TX77043
Country: United States
Website: http://www.equatorappliances.com/