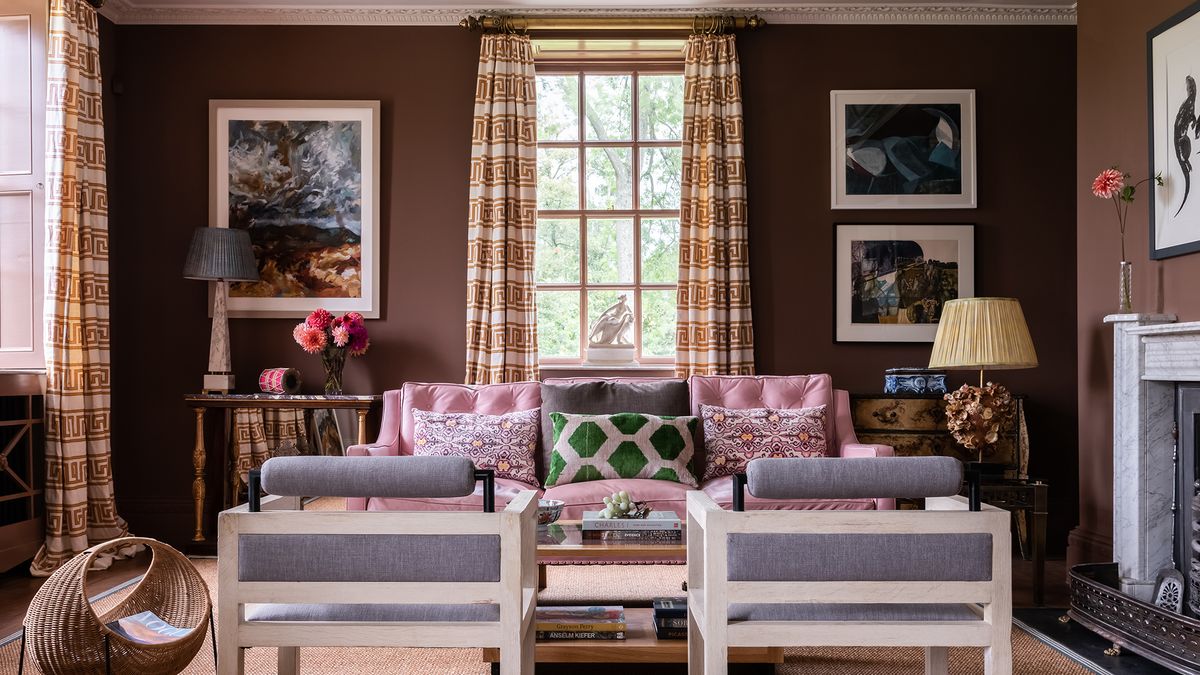 Decorating with Brown: 10 ways to use this warm, versatile color
Decorating with brown isn't always an obvious choice and has had a reputation for being outdated in the past. In recent years, however, brown has become increasingly popular with those looking for a grounding, earthy neutral to bring warmth to interiors.
With a spectrum ranging from cappuccino and taupe tones to rich auburn and dark chocolate, brown offers great scope for creating all sorts of looks, from sophisticated and tailored to calm and nurturing.
"While brown may have hints of kitschy '70s interiors, it can be painfully chic in the right setting. Browns traverse many scales – from earthy mid-neutrals to the deepest and richest aubergine darks," says Patrick O'Donnell, brand ambassador at Farrow & Ball.
If you're thinking of decorating with brown then you've come to the right place as we've rounded up a range of brown room ideas to inspire you, along with a wealth of advice from interior design and color experts.
Decorate with brown
Decorating with brown shouldn't be underestimated, say the experts, noting that more and more people are discovering the beauty and benefits of the hue. Although brown can sometimes be difficult to use, it can make for truly stunning interiors and, as a warm and neutral hue, makes a particularly good living room color scheme.
"I'm seeing earth pigment-based warmth becoming more popular, and I would even say more people are realizing how useful brown is as a wall color to support sophisticated colors in artwork and furniture," says Edward Bulmer, interior designer and founder of Edward Bulmer natural colors (opens in new tab).
"It's strong and warm, but somehow respectful of other colors, regardless of weight or hue. I love its sophistication and I think it might be about time that deep brown got a well-deserved resurgence!'
1. Bring wow factor with an all brown scheme
Painting all the surfaces of a room a deep brown color is a bold move, but it can be a stunning kitchen color idea when balanced with bright elements and lots of texture, as this kitchen by Neptune Suffolk proves.
"Brown is an earthy, grounded color that complements many colors. We used our deep, rich walnut color extensively in this kitchen to create an evocative, sophisticated ambience," says Simon Temprell, Head of Interior Design at Neptune (opens in new tab).
"It has a beautiful vintage feel created by the walls and furniture being painted the same color and broken up with the clean white marble countertops and bistro table. The reclaimed plank floor really helps bring an important textural element into contrast with the flat matte finish.'
2. Use brown as a background for antique decoration
Warm, medium browns are a wonderful way to add an inviting feel to a brown living room and can also be a brilliant backdrop for art and antique decorating.
"I used Farrow & Ball London Clay in my salon. I love it as a background for the paintings and the furniture." Its magenta pigment gives it a soft, earthy look," says Emma Burns, Managing Director of Sibyl Colefax & John Fowler.
"Red-based browns like London Clay, one of our steadfast browns, are an ideal choice for living rooms or salons. The solid red makes it perfect for low light rooms to provide both warm and cozy comfort," adds Patrick O'Donnell, Brand Ambassador at Farrow & Ball (opens in new tab).
"Use an empathetic white for your ceiling and trim, something with a red undertone like Dimity or Joa's White for a perfect bedfellow."
3. Try a deep brown for a north-facing room
Before settling on a brown color, it's important to consider the brightness of the room and test the shades to see how they perform in different lighting conditions. While many tend to use lighter colors in north-facing rooms, dark colors can be wonderfully effective, says Mike Fisher, creative director and founder, Studio indigo (opens in new tab).
"We believe that north-facing rooms should be painted a dark or rich color like brown to make them more cocooned, and those on the south side lighter colours. Thought is where you have darkness, you should bring colour, warmth and joy.'
4. Use chocolate brown for an enveloping feel
When used on all surfaces, brown can be a fantastic hue to add an intimate feel to living spaces. The darker the shade, the more it brings a room into play. So if you're trying to make a large kitchen cozier and cozier, a dark brown might do the trick.
"Chocolate brown hues are perfect for creating restful living spaces that bring comfort and warmth into the home. Used across all elements, they can really envelop a space," says Ruth Mottershead, Creative Director of Little Greene (opens in new tab).
5. Combine brown with pattern and structure
If you want to decorate with colored furniture and beautifully patterned fabrics, then decorating with brown can provide a nice base to show off, as illustrated in this living room painted in Edward Bulmer's London Brown.
"As a multicolored brown, it goes with everything, but in deeper hues it flatters particularly well with beautiful, well-drawn patterns. Our 'London Brown' puts everything else in a good light," says Edward Bulmer.
In this brown living room, a pastel pink sofa and modern white armchairs soften the look, while delicately patterned curtains and a jute rug add structure.
6. Combine brown with warm colors
"When decorating with brown, be sure to choose accent colors," says Neptune's Simon Temprell.
"Dark brown suits any room, north or south, but be careful with your complementary colors as they need to be adjusted depending on the quality of light in the room. Avoid bright whites and instead opt for warm, creamy whites with brown or yellow undertones.'
"This cabinet interior is finished in Chestnut, a deep terracotta shade that glows with welcome warmth and echoes the tan leather of our St. James saddle door handles."
7. Warm up brown with terracotta tones
"Brown pairs really well with other soft neutrals like terracotta and beige," says Justyna Korczynska, Senior Designer at Crown, an idea beautifully demonstrated in this hallway idea.
Here, the medium brown, velvety walls give the space a sophisticated and welcoming feel, but also make a lovely base for a patterned ikat with rich terracotta and an array of beautiful dishes and artifacts from around the world.
8. Bring the outside world inside with nature-inspired wallpaper
Dining rooms used for entertaining can be brilliant places to showcase decorative wallpaper.
Opting for a nature-inspired print in an earthy brown tone is perfect for creating a relaxed yet striking look. Featuring a repeating bamboo design on taupe, this dining room wallpaper from Dado Atelier brings a subtle pattern without being overpowering.
9. Introduce brown by decorating with wood
Introducing wood through finishes and furnishings is a great way to decorate with brown. Whether you prefer rustic, weathered finishes or heavily lacquered antique pieces, wood furniture is guaranteed to bring beautiful texture to any room and can even be embraced in bathrooms.
In this scheme of anti (opens in new tab)Graspathe cool gray marble tiles and blue zellige bathroom wall tiles are tempered with a bathtub surround made from precious reclaimed Iroko wood.
10. Use brown to create a calming feeling
Medium to light taupe brown is a beautiful bathroom color idea to create a warm and calm feel in spaces that risk feeling cold and clinical. With its green undertones, Farrow & Ball's Mouse's Back helps inject the soothing tones of nature.
"Earth browns like Mouse's Back offer effortless decorating options, from a relaxing bedroom wall color to a woodwork option. Mouse's Back gives a nurturing warmth and allows you to pair with a wide range of complementary colors, from subtle pinks to smoky greens to elegant Regency blues," says Patrick O'Donnell.
How to decorate with brown
Brown is a warm and versatile hue that can be used in any room and for all types of interior styles, but it's particularly suited to living room color ideas, say the experts.
"Beige and brown both work well in common areas like the living room and dining room, they are welcoming colors that remind us of nature and the great outdoors, encouraging us to relax," says Justyna Korczynska, senior designer at Crown.
Ruth Mottershead, Creative Director at Little Greene, explains what materials and hues to use alongside brown: "Deep, rich browns are beautifully complemented with textural elements such as muted linen, tactile wool and natural wood finishes to create an intimate and welcoming scheme .'
"They combine beautifully with neutrals and naturals like Clay and Lute to create a tonal scheme, or used in a colour-soaked scheme for a really impactful, cozy finish."
What color goes well with brown?
As a polychromatic color, brown pairs well with many other hues on the color wheel, making it a wonderfully versatile option for decorating with experts.
"Brown is a rich color and goes well with white or blue. Brown paired with white combines the qualities of a natural down-to-earth attitude with a strong contemporary style. Natural wood and materials like rattan and linen work really well here. If white is too mainstream for you, brown goes well with navy blue," says Justyna Korczynska, senior designer at Crown.
"Dark chocolate brown pairs beautifully with warm, muted plaster pink, like our Old Rose, or you can give this warm shade some balance by contrasting it with a cooler shade like Flax Blue or Cactus," adds Simon Temprell of Neptune.