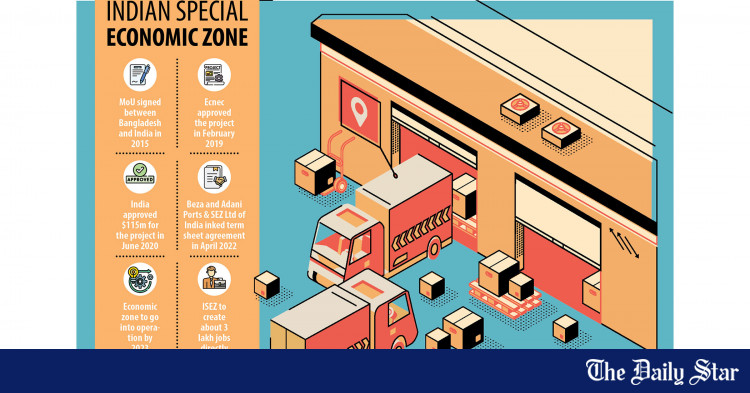 Deal this year for the Indian Special Economic Zone
The Bangladesh Economic Zones Authority (Beza) plans to sign a trade deal with India to establish the Indian Special Economic Zone (ISEZ) later this year as negotiations on the matter are nearing completion.
Beza Executive Chairman Shaikh Yusuf Harun said they would sit down with Indian delegates to finalize negotiations within a month and then set a date for the signing of the contract.
Harun hopes billions of dollars will flow in as investments from the neighboring country once the ISEZ is completed at Bangabandhu Sheikh Mujib Shilpa Nagar (BSMSN) in Mirsarai, Chattogram.
As part of the negotiations, a final draft of the agreement will be prepared and submitted to the Indian side for approval, the Executive Chairman said.
India has already approved $115 million for the project under its third $4.5 billion credit line, sources said.
The economic zone will be fully operational by 2023, creating about 3,000 direct job opportunities.
However, Harun said the number of companies that will settle at ISEZ has yet to be determined.
Harun further said that they are ready to hand over land to Indian developer Adani Ports and SEZ Ltd to start construction work on the ISEZ, which will be built on 1,000 acres of land exclusively for Indian investors.
To date, Beza has received investment proposals totaling US$62.72 million for the BSMSN from three Indian investors.
Negotiations will conclude after deciding whether Beza will pursue a profit-sharing model with ISEZ's investors or charge them rent for land use.
Harun then said that Beza preferred the profit-sharing model.
Meanwhile, a consulting firm has been hired to design the proposed economic zone and oversee its construction, he added.
In April this year, Beza and Adani Ports signed a term sheet agreement to develop a special economic zone for Indian companies at the BSMSN.
With an estimated cost of Tk 964.85 crore, including the US$115 million Indian credit line, the purpose of this project is to establish a separate zone to attract Indian investors.
The main work of this project is to complete land development, set up connecting roads, administrative buildings, security systems, water supply systems, telecommunications, water treatment plants and other investment-friendly facilities.
A memorandum of understanding to establish the ISEZ under Beza was signed between Bangladesh and India in June 2015. For this purpose, two economic zones in Mongla upazila of Bagerhat and Mirsarai have been identified in Chattogram.
The development activities will be carried out under the Concessional Line of Credit of the Government of India.
Beza has already acquired 110 acres of land in Mongla, for which Hiranandani Group of India has been appointed as developer, while Adani Ports will work as developer for Mirsarai.
In February 2019, the Executive Committee of the National Economic Council (ECNEC) approved a project totaling Tk 845 crore to acquire 1,000 acres of land in Chattograms Mirsarai for Indian investors.
Implementing the ISEZ would reduce the trade gap between Bangladesh and India, which is currently leaning heavily towards the latter, Harun said.