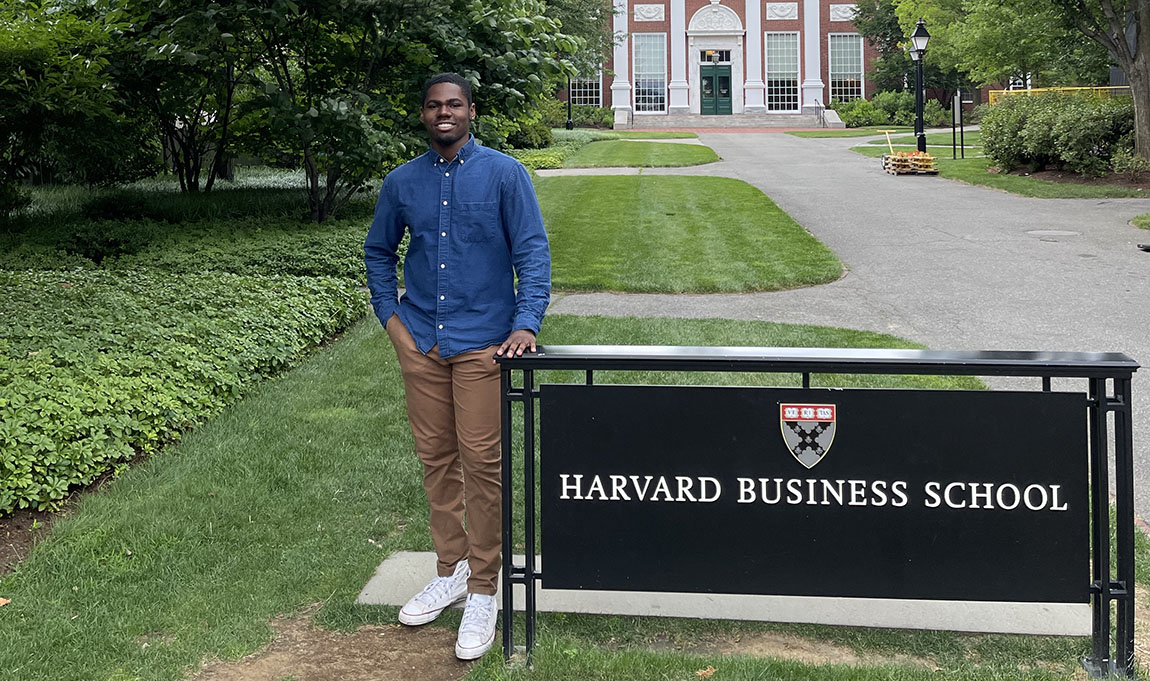 Breaking News: Rising Senior conducts summer research at Harvard Business School
Aspiring senior conducts summer research at Harvard Business School
As part of the 10-week Market and Organizational Research program, Adonis Brooks '23 sees firsthand what it would be like to earn a Ph.D. Program.
By: Meghan Kita
Tuesday, July 19, 2022 3:23 p.m


Adonis Brooks' 23
Last year, Adonis Brooks '23, a dual degree in business administration and psychology, took Research Methods with Professor of Psychology Kate Richmond '00 and loved it. She told him about Research Experience for Undergraduates (REU) programs and he started researching and applying for suitable programs. Ultimately he was chosen as one of about 30 Program for Research in Markets and Organizations (PRIMO) Fellows at Harvard Business School.
"I've always been a curious person," says Brooks. "Research gives me the opportunity to ask questions and find answers, and someone pays me on top of that. It's a dream job."
Brooks works with Alison Wood Brooks (not related), associate professor at Harvard Business School, whose research focuses on conversation. One of Brooks' summer projects is to participate in a study examining the relationship between eye contact during conversation and group feelings. He also assists Professor Brooks' graduate students with their research projects exploring management coaching, the link between mentoring and employee performance, and perceptions of employees of color speaking out about race and racism.
The 10-week program also includes seminars, social opportunities and opportunities for participants to present their projects. PRIMO grantees are encouraged to network and explore research opportunities beyond those they are specifically working on, and Brooks ensures that this happens.
"I want to meet as many people as possible and find out what my research interest is," says Brooks. "These super smart people here, I get their feedback and suggestions. They help me with my thesis – I was able to get the idea off the ground and develop it further."
His research goal for his dissertation is "to examine whether racial code-switching improves perceived intelligence for black staff and students." (In his dissertation, Brooks will use Cornell University Assistant Professor of Organizational Behavior Courtney L. McCluney's definition of racial code-switching, which is "an impression management strategy in which black people adjust their self-presentation to achieve desirable outcomes [e.g., perceived professionalism] by mirroring the norms, behaviors and characteristics of the dominant group [i.e., white people] in certain contexts.") This thesis experience, along with his experience this summer, will help inform what's next.
"Until the end [summer], I really want to find out if I want to do a PhD. So far I'm leaning towards yes," says Brooks, who is interested in work and organizational psychology or organizational behavior programs. "I didn't really understand how many opportunities there are after you get your Ph.D. and the freedom that research gives you."