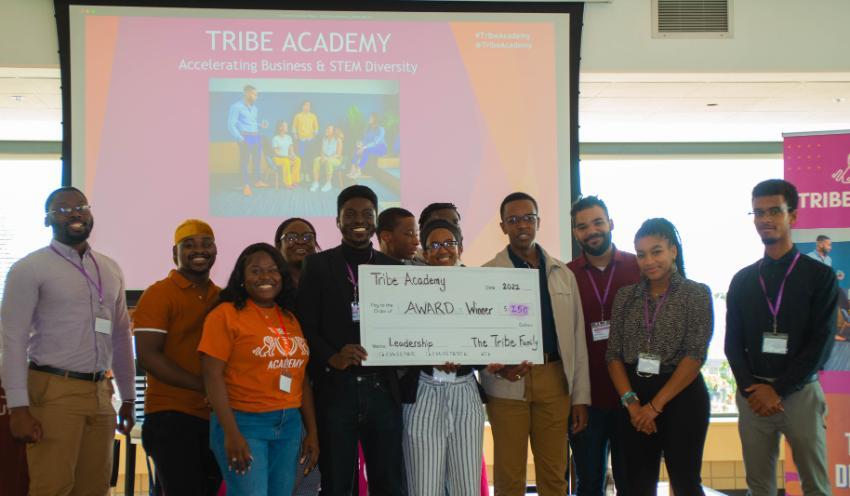 2022: Tribe Academy breaks down barriers in tech and business careers on the UMassD campus
UMass Dartmouth, business leaders and the Tribe Academy came together to sponsor the first-ever Tribe Academy Diversity & Career Conference to reach students eager to enter business and technology careers
The National Society for Black Engineers (NSBE) Chapter of UMass Dartmouth was recognized for its outstanding efforts to engage and empower diverse students through professional development events
On Thursday 6th October, UMass Dartmouth hosted the Tribe Academy's Diversity & Career Conference, one of the most dynamic and engaging diversity-focused career events for college students and young professionals in the area.
The event was free for attendees and took place in the newly renovated Marketplace conference hall, which brought together more than 150 diverse students with top companies in technology, finance, insurance and more. Dell Technologies, Wayfair, Fidelity Investments, Amica Insurance, CyberArk, IGT, Hanover Insurance and CrowdStrike sponsored the event and sent representatives to engage students.
"Tribe Academy felt like they gave us students of color an opportunity to shine and show what we bring to the table and how we can impact businesses," said Jayden Betances, UMass Dartmouth 2022 alum and current graduate student at Charlton College of Business. "This was an extremely important event due to the opportunities and network we were presented with, which gave us the opportunity to open doors that we would not have access to without Tribe Academy! For me personally, it has been a blessing to meet and surround myself with such amazing people."
The session included keynote addresses from veteran business leaders who have advanced their careers, remarks from UMassD leaders, Chancellor Mark Fuller, Vice Chancellor for Student Affairs Kimberly Scott, and Chief Diversity Officer and Title IX Coordinator David Gomes (all pictured below) and a Color entry panel (including UMass Dartmouth alumni).
Students received $2,000 in enterprise technology student competition prizes, scholarships and raffles, opportunities to connect with industry volunteers in a personal and meaningful way, and an exclusive Dell Technologies reception after the conference. held at Frederick Douglass Unity House. More than 20 highly recommended students had the opportunity to meet face-to-face with companies looking for internship and full-time positions.
"This event was truly handcrafted for students and was more than a traditional careers fair," said Laodecia "Lala" Fevrier, a class of 2018 UMassD alumna, Sr. Associate of Influencer Marketing at Wayfair and moderator of the Early Career Panel. "Students had hands-on help with resumes, preparation for job interviews, and a chance to connect with real leaders who see diversity as a key function of their organization. I am grateful to have had the opportunity to hear and support these future leaders."
"I was able to discover what it means to be in a place where you see people who think like you and do what you do even better!" said Cybersecurity Ph.D. Student and President of the National Society for Black Engineers (NSBE) from UMass Dartmouth, Gaspard Baye. "This event brought us UMassD students together with experts from different fields who were open and willing to share their experiences and hire us. I had a real sense of belonging."
The October conference is an example of the diverse program and measurable impact of the Tribe Academy. Since its inception in 2019, the start-up accelerating the diversity of STEM and business talent has served more than 450 students and professionals from over 25 colleges and universities across the US through its extensive training and programming, unique events and mentoring opportunities dedicated to serving as a bridge between talent and 30+ leading companies. Tribe Academy graduates have gone on to work at leading companies including Microsoft, Amazon, Dell Technologies and Fidelity Investments.
"Tribe Academy's return to campus post-Covid was critical as it allowed industry leaders to meet face-to-face with UMassD students of color who shared their determination, energy and understanding of the unprecedented access and real possibilities of Internships demonstrated time roles at companies committed to DEI," said Peggy Dias, Tribe Academy Campus Lead and Executive Director of IT Services at UMassD. Dias also expressed her gratitude to Tribe Academy co-founders Nishita Roy-Pope and Florcy Morisset for their longstanding commitment to UMassD BIPOC students.
To learn more about the work of Tribe Academy, visit TribeAcademyDiversity.com or connect on LinkedIn. To learn more about how Tribe Academy is partnering with UMass Dartmouth, contact [email protected].